Technical Information
Camera is located on the rooftop of Hotel Paré building in Livigno, close to the finish of the black skiing slope Giorgio Rocca.
We use outdoor-ready HD camera AXIS P1344-E with 1 megapixel resolution and the AXIS Varifocal 3-8 mm/72° - 28° view, F1.2, DC-iris lens for megapixel HD cameras. Camera delivers color pictures both day and night.
Due to the long distance of the objects from the camera, the picture quality and visibility of the objects is weather dependent. Explicitly rain, snowfall and fog decreases the picture quality radically and the picture may even fully disappear.
This outdoor-ready camera has a rugged metal housing for dust, rain, snow and sun protection and can operate in temperatures as low as -40 °C. Temperatures below -30°C are not a rarity in this Alpine valley. Temperature-controlled heating is present in the camera housing which warms up the space inside in frosty weather. Due to the heating, the camera's electronics operate in a good range of temperatures and it prevents steaming up of the glass lens window. The camera is powered using Ethernet cable and power supply AXIS T8123 High PoE for extended outdoor temperature ranges between -40°C to 50°C (-40°F to 122°F).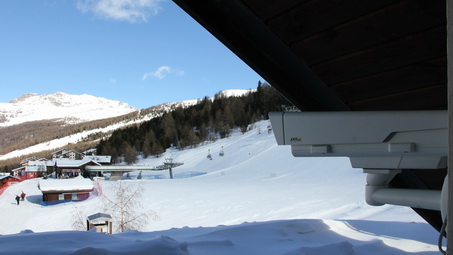 AXIS camera installed on the rooftop of Hotel Paré in Livigno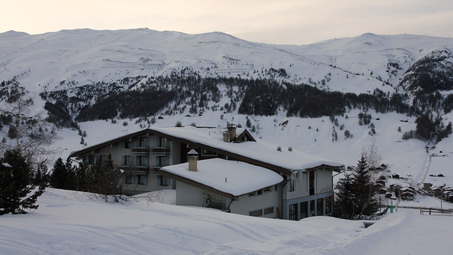 Hotel Paré has the best view on the Livigno valley